Airmatic Gloves—Before You Buy...
Updated: Mar 16, 2019
100% offer a strong compromise between style and protection with a diverse range of gloves, helmets and goggles. 
With competitors such as Fox Racing and Troy Lee Designs operating much more within the clothing space, Ride100Percent have focused almost exclusively on the equipment side of the MTB market with a strong profile across the previously mentioned categories.
The "Airmatic" is an entry level glove targeted at weekend riders with an element of flair. The glove boasts an Airprene cuff and thumb panels with Poron padding, offering maximum protection from the elements. The palm provides enhanced grip in the form of faux-leather, dual layer protective panels although the lack of padding is noticeable compared to other lesser brands.
Very nice gloves
First impression was amazing. The feeling and fiting is great, but there is one problem, thats why i gave 4 stars. After first ride, one glove snupped in one place. I hope that's factory defect, not a quality.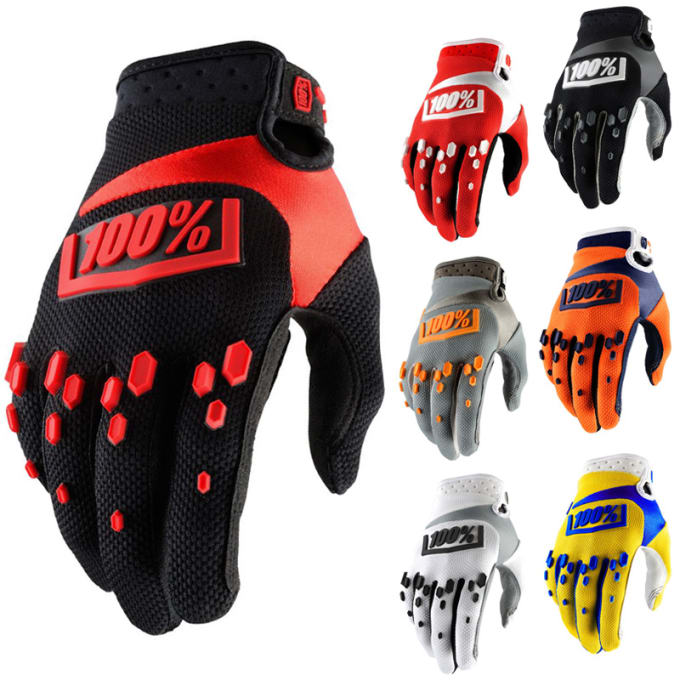 The design of the glove is good, both aesthetically but also in a practical sense. The different materials used ensure the glove wicks away water where required, but also remains breathable and comfortable to wear.
It's worth mentioning that, due to the dual-layer on the palm, these gloves are best worn tight, as any excess of material can bunch up under the palm and cause blisters.
The glove offers some basic back hand protection with rubber features across the fingers to protect from roots and branches, and a bold "100%" logo across the backhand. The lack of any knuckle protection is noticeable, however at this price point you can't expect the highest level of protection.
A little disappointed from the overall quality
The wrist strap is very weak and the velcro bearly holds. the glove feels flimsy and thin, size is too big (then the size table). they look good but feel poor. for the price they cost although in a price deal I would expect more, particularly from 100%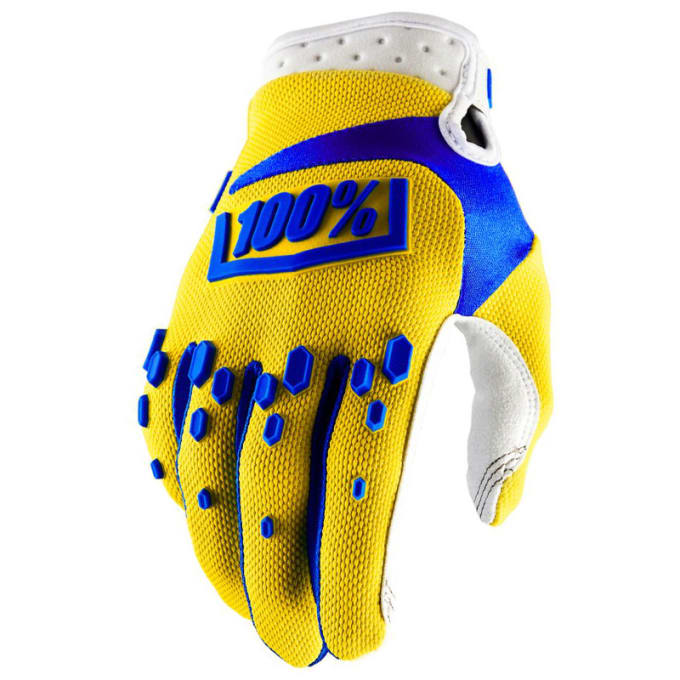 In terms of quality, the materials used are of a very high standard—the only fault in regards to the manufacturing process lies in the stitching—reviews across chainreactioncycles.com and other retailers consistently mention the stitching quality, and this isn't helped by the fact that these gloves are best worn tight, increasing the strain on the structure of the fabric.
Overall, these gloves are fun, stylish and due to being available in such a wide range of colours, perfect to match with any race-gear or paint-job.
There are a few downsides in terms of quality of the manufacturing, but I do feel that this is to be expected with such a budget-level glove by a leading brand.
Great product but a bit uncomfortable
This product is great and good quality for price but can give you blisters if you choose a size too big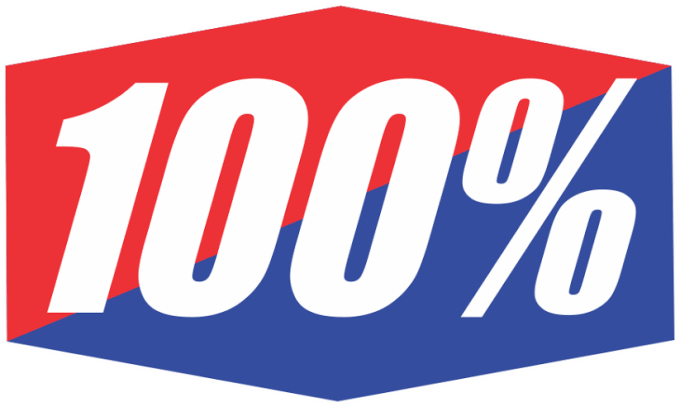 In summary, the 100% Airmatic is a great glove to add to your collection— perfect for wearing out on the road due to high visibility, or on the trails. We would suggest alternating with other pairs of gloves to increase the lifespan.
If you're looking for something a bit more hardwearing, but not wanting to spend much more money, we'd suggest trying the "Kutook" padded full finger glove available on Amazon.
Whilst the Kutook Glove doesn't have the same visual impact its Airmatic competitor, it is packed with features that make it undeniably better value for money.
Downhill Dreams is a mountain bike race team, community and online resource for riders and enthusiasts alike. Visit our website to see more content including event photography, video edits, reviews, mechanical how-to's and much more.
Follow @DownhillDreams_ on Instagram, Facebook and Twitter!
If you like Downhill Dreams and would like to see more of our content, please visit our Patreon and consider supporting us!